Jacobus de Voragine
Vorago 1230 - Genua 1298


The Church Latin writer and archbishop Jacobus de Voragine, also known as Jacobus a Voragine or "Varagine", was born in Voragine, today's Varazze near Genoa, Italy, in 1230.
In 1244 he entered the Dominican order and at the age of 22 became a professor. Jacobus de Voragine was an extraordinary and brilliant speaker, he taught at various schools of the order and worked as an itinerant preacher.
From 1267 to 1278 and again from 1281 to 1286 he was a provincial of Lombardy and mediated in the conflict between the Guelfs and the Ghibellines on behalf of Pope Honorius IV.
Two years later he he was elected archbishop of Genoa and took up office in 1292.
On July 14, 1292 he was buried under the main altar of the Dominican church in Genoa. "Legenda aurea", the "Golden Legend" is the most popular and most widespread religious folk book of the middle ages.
In its time it was read more often than the Bible and it was Jacobus Voragine's main work.

Publius Ovidius Naso
Fasti
4,218 $
Details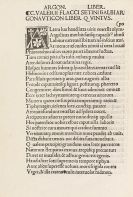 Valerius Flaccus
Argonautica
1,110 $
Details